The Forum,
Al‑Anon's monthly magazine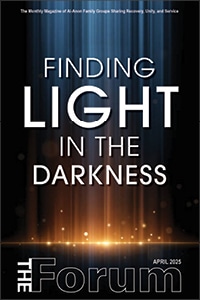 The Forum contains personal stories of inspiration. Articles written by members present their personal views and experiences. Opinions expressed are not attributable to Al‑Anon as a whole. In keeping with Tradition Eleven, individuals are identified by first names and initials only. Excerpts from the latest issue are always available online.
You can subscribe to The Forum online or by mail. You can download a subscription form or use the subscription form found in every issue.